Below is an article submitted by Saab 99 Turbo Registry Member, Jonas Nordstrom. Jonas has two of the most beautiful Saab 99 Turbos on the Registry and another restoration project, while I'm still getting to know him, he clearly has been a great supporter of the Saab 99 Turbo.
View Jonas Nordstrom's Saab 99 Turbos

Article from Jonas: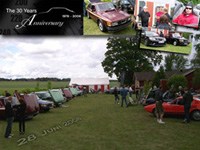 As from 9:00 am some of the participants arrived in "great spirit"…
We had visitors coming in as late as 3:00 pm that day!
Approximately 80-100 persons joined this meeting- even some VIP-persons such Peter Backstrom from the Saab-Museum joined us with a Black Turbo X!
This contributed to show people 30 years of development of the turbo-charging in the terms of Saab-ideology…
Johan Ålander from "Teknikens Värld"
One of the biggest car-magazines in SW joined us with his "near to completed" Acasiagreen 99t-80 placed on a trailer towed by a unique Saab 9000 Convertible!
(Note His weird  "head Accessory"…)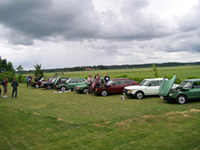 A Cardinal-red 99t-78 with only 28000km on tach arrived about lunch-time. I've knowledge about this car since July 1994 when it was for sale- though it was a "red" one I did not pay to much attention to it since I was (and still are) preferring 99t in black configuration…
In addition to that, the original owner asked with all do respect for a substantial amount of money for the car-so I couldn't afford it anyway…   A Saab car-dealer which where a superficial acquaintance of mine- bought it shortly after I saw the add in 1994 but regrettably He past away during the end of 2007…
So I established some contact with His daughters, which took over his business as it was a family-company, and gladly they did show up in the car! This was the first ride in 15 years for that car so the Gasoline-smell wasn't exactly the one it use to be…
Well, the pics speak for them self so I hope you enjoy them.
Please feel free to open any subject on the "discussion board" about the meet if such occur?
Best regards: Jonas Nordstrom & Niklas Thorngren
Arrangers of the Saab Turbo 30 Years 2008