By Saab 99 Turbo Registry Member Dennis Lin
View Dennis' Registry Listing

Editor's note: Dennis' Saab 99 Turbo is the car that was used to create the Saab 99 Turbo in the Forza Motorsport XBox game. See details in the story below.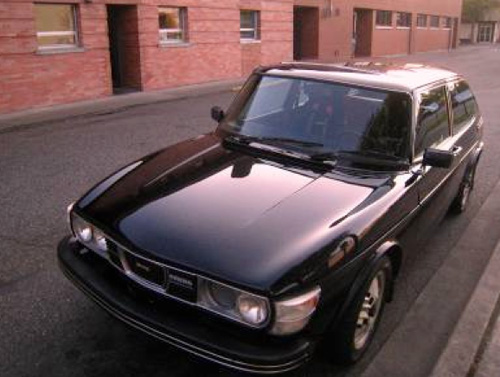 I was introduced to my first Saab at the age of ten, my dad bought a 1974 99 LE four door to teach my older brother and sister how to drive. A few years later my older brother acquired a 1979 900 Turbo 5-door. I was amazed by the difference in power with the addition of the turbocharger, but I still preferred the stubby look of the 99 over the stretched-out appearance of the 900. My dad sold me the 99 four-door and it took me through college all the way to my first professional job. After a few months at the new job I decided to give a gift to myself and I bought a brand new 1989 900 turbo four-door.
So where did I find the 99 Turbo? Through work I had met someone who had both a 1977 99 EMS and 1978 99 Turbo. We traded stories about the cars and their quirkiness. Years passed and on a whim I called him to see if he still had the EMS and if he was interested in selling the soccer ball wheels. He told me the EMS had been parted out and hauled off, but he still had the wheels. He told me they were not for sale, but he would give them to me if I bought the 99 turbo. I was not in the market for a 3rd Saab but the deal was too tempting and I had always wanted a 99 Turbo. I went to look at the car and although some of the trim and plastic bits were removed, everything was accounted for and in boxes. It started, drove pretty well, and it had been stored in his garage out of the weather and sun. We struck a deal for a $1000 and I drove the car and a bunch of spares home. I now owned three Saabs. It is a bit of a disease.
I spent the next year cleaning parts, performing general maintenance, and restoring the car back to its somewhat original condition. I say "somewhat original" due to preventative measures to save the B motor head. I installed a 900 intercooler with a modified headlight bucket and an Aquamist water/methanol injection system. To mitigate turbo compressor stall I added a turbo blow off valve. One of the tasks was rebuilding the fragile air dam by combining the unbroken EMS air dam, making cutouts and adding the vents from the turbo air dam. All you purists need not fear, I still have all the parts needed to return it to factory configuration.
I was using the car as a daily driver and for the occasional track day, which brings me to my next saga. Two other Saab 99 enthusiasts – Gregg Cronn and Craig Richmond – and I decided it would be fun to join the local Alfa Romeo club in a driving school track day. On our way to the driving school I got rear ended by a Jeep while I was waiting for a pedestrian using the crosswalk.
We had already paid our money to attend the session, so we pressed on and headed to the track. My friends felt bad for me and they offered the use of their cars if I did not pass tech inspection. Ironically, I did pass tech inspection and Gregg ended up using my car in the afternoon session because his turbo charger was smoking too badly.
After a lengthy negotiation with the Jeep driver's insurance company they agreed to repair my car. The problem with a unique 25-year-old car is that most comparison cars are in salvage yards and worth at the most $500. I figured it was a good time to have the rest of the car repainted at my expense. The car spent over six months at a Saab specialist body shop to receive a concours quality metal and paint restoration. With all the headaches I had with the insurance company and the additional money spent on repainting the whole car I decided to pursue car collector's insurance. It is a wonderful arrangement: you and the insurance company agree upon a declared value for a very reasonable premium with only a few stipulations regarding what type of driving, annual mileage, and manner that the car is garaged. The Saab 99 Turbo's track days were over.
The insurance agent asked me to take some pictures of the car for documentation, a great excuse to take my girlfriend (now wife) and car for a photo shoot and dinner down by the waterfront. Plus, I wanted to get this done so it would be covered for the 2004 Saab Owners Convention that our club was hosting in two weeks. More bad luck, on our way to take pictures we were sideswiped by some off-duty Navy boys trying to make it back to base on time. The car still made it to the convention, where the judges were generous enough to overlook the recent damage and award the car second place in the 99 class concours. Wonderful people, including Saab legend Erik Carlsson, and a great venue made it all worthwhile.

The Good Times
At the annual Northwest Saab Owners Club picnic we get a chance to tell stories, swap parts, make new friends and catch up with old ones. One year Dan Wing introduced himself and mentioned he was the Service Manager at Saab Wilson Motors in Bellingham, Washington. I told him I thought my car might have been from there because of the Wilson Motors license plate frame I found with the car. He said "Maybe, lets take a look." Apparently, after every 99 turbo dealer preparation he would sign the underside of the hood with a black permanent marker. If you look closely, even after 30 years you can still see his signature on the car.
Getting a Saab 99 Turbo on XBox
Thirty years is a good run, but how do you make your Saab 99 Turbo last forever? Have it immortalized in a video game. I was contacted by a photographer from the Microsoft Game Studio by way of Kurt Hoffmann at the Saab 99 Turbo Registry. They wanted to shoot my car for 3D modeling to be featured in Forza Motorsport 3 as part of an available download. Detailed images were captured, from the dash mount turbo gauge to the unique Inca turbo wheels. He took the majority of the images in the driveway, but he needed some full car shots. We drove to a local elementary school to get a more open view. One of his first comments was that he loved the sound of the turbo spooling. He was done with the complete photo shoot in a couple hours. I was glad to help, because not everyone can have a complete 99 Turbo in their garage, but they can enjoy one on their XBox game console.
There you have it, a brief history of my long and complicated relationship with Saab and the 99 Turbo. I still own the 900 Turbo I bought with money from my first job. The 1974 99 LE that I bought from my dad has since been totaled and replaced with a 1976 99 EMS project car. But the 99 turbo is my favorite, I enjoy the engineering, style, driving characteristics, and people associated with this iconic automobile.